*This page is best viewed in full screen and at 1024x768 High Color Resolution,
please set your screen accordingly*
FyF has disbanded for a greater goal.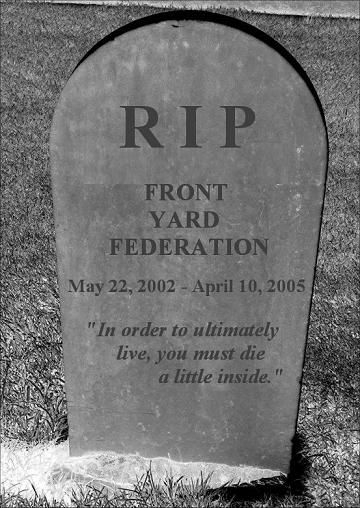 That's right, as of April 10, 2005, the Front Yard Federation is hereby retired. But, with every end, there is a new beginning. With the FyF dead and gone, its time for a New Breed of Wrestling to emerge. Leaving the backyard for the big time, many FyF stars can now be seen in the New Breed Wrestling Alliance traveling the state of Illinois, and soon the entire Midwest. Thank you to you all that supported our little hobby, without you we wouldn't have got to the point we're at today.
Thank You
From all of us at the Front Yard Federation!
Please, visit us at our new home, the NBWA to see when we're coming to a city near you!
www.nbwawrestling.com

---
On a completely serious note, I'd like to take this time to thank every single person who helped make the FyF what it ultimately became, one of the best backyard wrestling federations of all time. We couldn't have done it without you, thanks guys! Hopefully we'll be seeing some of you soon for NBWA.
Special Thanks To:
Colton Splane
Tyler Brandt
Dustin Daily
Aaron Schmit
Phil Schmit
Brian Wait
Timmie Powell
Tyler Taylor
Kevin Hooks
Kevin Moore
Michael Nargelenas
Marquil Brown
William Buncum
Marilyn Brandt
Amy, Eric, and Bob Fridmanski
"Soldja's #1 Fan" Vanessa Seal
And to everyone else who participated in or simply showed their support for what we worked so hard to achieve.
Thanks a lot.
And Extra Special Thanks To:
Justin "George T." Bonomo
For sticking through everything and being the FyF's only Undisputed #1 Fan. For this and all your help for the past three years, we thank you.
Mamaw and Papaw
For letting us get together every week and do what we love to do, even though you complained alot about the music and threatened to take a chainsaw to the ring. We still love ya for everything you've done.
---
The Votes Are In!
With potentially the final FyF website update, the 2004 FyF Awards are completed!
And "The Spawn of FyF," VCW is here! The FyF may be gone, but VCW is coming to take over!
Check out there website here: vcw2005.tripod.com
But anyways, the winners are....
| | | |
| --- | --- | --- |
| Category | Winner | Votes / Percent |
| Most Shocking Moment of 2004 | Soldja Turning on Brian Henderson to join the oWc at Now or Never | 63v / 72% |
| FyF Event of the Year | Now or Never: Ride or Collide - November 7, 2005 | 32v / 65% |
| FyF Rookie of the Year | "The Superstar Destroyer" Sugar Shane Moore | 54v / 48% |
| FyF Match of the Year | Now or Never: Iron Man Match - Jeckel vs Soldja | 59v / 44% |
| FyF Wrestler of the Year | Pain Train | 67v / 48% |
---